Kitchenaid 39 dBA Dishwasher with ProScrub Option & Third Level Rack KDTE254ESS ENERGY STAR
Description
Kitchenaid Stainless Steel Dishwasher 39 dBA Dishwasher KDTE254ESS with ProScrub Option
6 Wash Cycles
39 dBA Describe Level
ProScrub Option
Third Level Rack
Professionally-Inspired Design
ProWash Cycle
Heat Dry Option
SatinGlide Max Rails
Fold-Down Shelf With Stemware Holders
Express Wash Cycle
Filter-Based Wash System
Sani Rinse Option
This powerful 39 dBA top control Kitchenaid dishwasher has a ProScrub Option, offering superior cleaning with 40 targeted spray jets. The jets make quick work of the most stubborn messes. It has a Third Level Rack that's perfect for long, flat items and features SatinGlide Max Rails (Upper and Lower Racks), letting you move the racks smoothly in and out.
ProScrub Option --Helps eliminate soaking or pre-scrubbing with 40 targeted spray jets that help remove stubborn messes like seared or baked-on foods.
Third Level Rack--makes it easy to clean hard-to-place items such as spatulas, serving utensils and measuring cups, freeing up space in the lower two racks.
Professionally-Inspired Design--combines a bold blend of professionally-inspired styling with sleek touches for the home. This beautiful dishwasher features Satin Textured Handles and the KitchenAid® Badge, a symbol of uncompromised quality.
Fold-Down Shelf with Stemware Holders--Provides extra room in the upper rack to hold additional cups, wine glasses, or long items such as utensils and spatulas.
Sani Rinse® Option--heats the final rinse water to 155°F, eliminating 99.999% of food soil bacteria.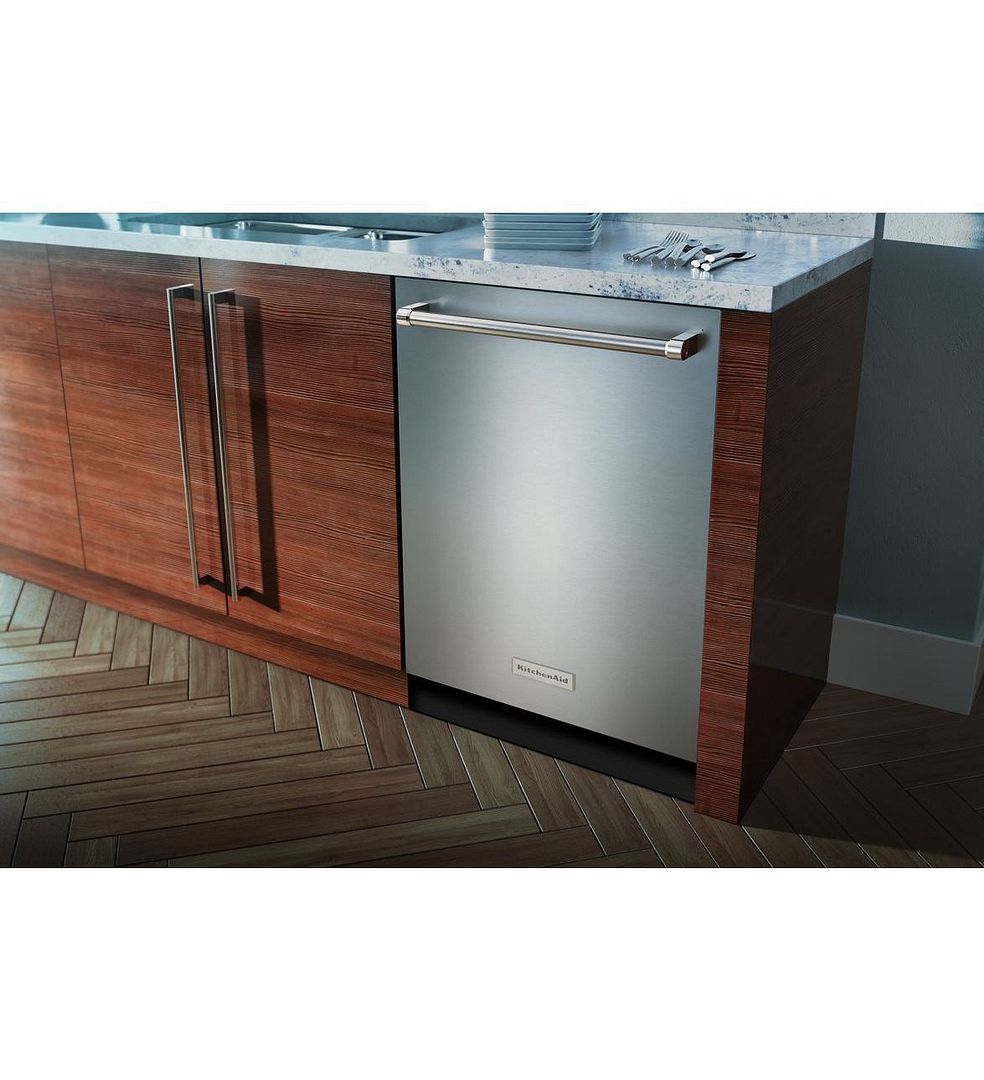 Heat Dry Option
-- engages a recessed heating element during the dry cycle to ensure dry dishes.